Hi guys! I'm so excited to introduce to you today Lan Chan! She is the author of the amazing Dystopian book, Poison, book one in the Wind Dancer series! So lets see what she has going on in her writing space! It seems like we have a lot in common... :)
The Write Space with author Lan Chan
I have always been prone to distraction and procrastination. Even as a child I could spend hours riding in a car with my walkman (how old am I?!?) and just staring out the window. That's why when choosing a spot to do my writing I had to make sure that it was as visually unstimulating as I could possibly find. If I have a view it makes me think about gardening and what I could be doing outside rather than what is happening with my characters. This is why I chose what should have been our master bedroom to become my writing room because the window has shutters that stay permanently closed so that the outside world doesn't entice me.

My desk, as with most desks, ends up being a place to dump bits and pieces that I don't want to or can't be bothered to deal with until a later time. This essentially means papers and invitations and bills pile up until the absolute crucial moment when I rifle through everything in a frantic hurry. It's a pretty hectic system but one that seems to have gotten me by so far.

I write on the same unpolished pine desk that I've had since high school. I bought it with my own money from my part time job in a gift store and because it's unpolished the draws stick when I try to open and close them. Inside the draws are yet more pieces of correspondence that I've now completely forgotten about as well as a myriad of stationary that at the time I just had to have but of course wasn't practical for a desk so small.
I always have a bottle of water on my desk because during those times when the writing bug bites, I can't allow myself to walk away to get a drink of water because that will instantly snap me out of the world in my head. I try to keep a small jar or vase of flowers on the desk because I find that nice smells make me happier and when I'm happy I tend to write my best stuff. For the most part the flowers come from the backyard that so often calls me away from my writing so I feel like it's a fair exchange that the backyard also furnishes me with something nice when I do get a chance to write.
I've always tried to surround my desk with pictures and trinkets which will inspire me to write. Behind my desk are pictures of a country property that I would one day like to move to. On the wall above the left side of my desk is a "Young Adult" sign that I bought for $10 from Borders when it was closing down. It is a reminder that though my dream is no longer to publish the traditional way, I am still proud of the stories I produce in this genre.
Though this desk and this room are the habitat that I physical occupy, what's there or isn't there often doesn't really matter. When I get writing my surroundings change and I am wherever my characters are, experiencing their trials and tribulations. That's the beauty of being a writer and I am so lucky to be able to do what I love.
---
Books by Lan Chan
Poison (Wind Dancer Series #1)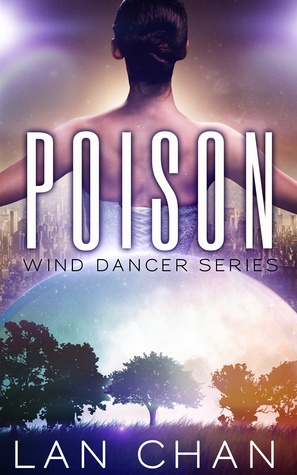 Since the night her mother was murdered, sixteen-year-old Rory Gray has known one truth: There are no good Seeders.

In post-apocalyptic Australia, the scientists known as Seeders have built a Citadel surrounded by food-producing regions and populated with refugees from the wars and famine. To maintain their control, the Seeders poisoned the land and outlawed the saving of seeds.
It's been six years since Rory graced the Seeders' circus stage as the Wind Dancer and still the scars on her body haven't healed. Even worse are the scars on her heart, left by a Seeder boy who promised to protect her.
Now the Seeders are withholding supplies from Rory's region for perceived disobedience. Utilising the Wanderer knowledge she received from her mother, Rory must journey to the Citadel through uninhabitable terrain to plead for mercy.
However, the Citadel isn't as Rory remembered. The chief plant geneticist is dying and rumours fly that the store of viable seed is dwindling. The Seeders are desperate to find a seed bank they believe Rory can locate, and they will stop at nothing to get it.

To defy the Seeders means death. But Rory has been close to death before--this time she's learned the value of poison.
Recommended for fans of The Hunger Games, strong protagonists, circuses and nature!
---
Lan Chan is a writer, gardener and professional procrastinator based in Melbourne, Australia. She is still waiting for her super powers to manifest but until then she writes young adult novels featuring strong female protagonists, minority characters and has a particular interest in dystopias and urban fantasy. Lan's debut novel POISON, the first in her WIND DANCER series is due for release in September 2015.